SZ Incidenteel
---
Geplaatst 20 maart 2015.
Letter from Jimmy! Dear, Simon and Saskia, sponsors, members of the board and facebook friends. How is it going (life)? I just got my 11th class results. I am pass with 72%. I will send you the picture of my result sheet. I already started my 12th class. It's a little hard to believe that I am in the final year of my school life. We have music classes for sometimes, I am learning how to play guitar during my music class. There are few choices between guitar, piano, singing, and dancing. It's fun! Football is going great. Our school coach planned a very busy schedule for us this year. There will be more than five tournaments, which will be organised by our school only. They includes two national level tournaments which will be held in our school. It's exciting. Our soccer practice also changed. Earlier we practiced in the morning. Now, we are practicing in the evening to spend more time playing and to give the best result. I bought soccer shoes,they are really comfortable. Thanks. I have to pay annual charge for the 12th class. ... This also includes April's month fees. I have to buy some stationary items like books, notebooks, painting stuffs etc. ... I have sent you my pictures and a click of my report card sheet. I am in sector 40, everybody seems great. Disket and Dolkar had economics paper today. Poor girls, have to stick with books all the time. Haha. Take care and thanks for everything. These are my school soccer mates, this picture is taken at the farewell party.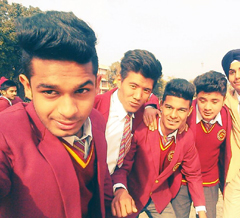 These are the clicks of Holi ( the festival of colors).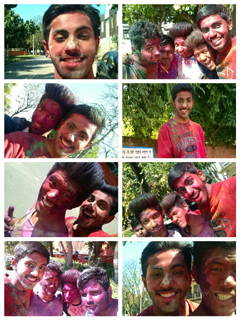 This one is taken at the sector 11 football ground.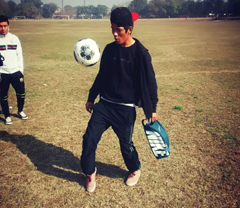 ---
Geplaatst 5 november 2014.
Contact met de kinderen in Chandigarh (4).
Deze foto's zijn me opgestuurd door Dechen (17-10-2014).
Met betrekking tot de groepsfoto's: ze gaan over een uitstapje naar een bioscoop in de Elanta mall (Chandigarh).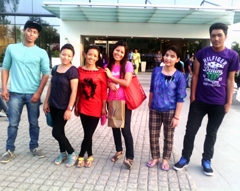 Rigzin, Angmo, Diskit, Dechen, Dolkar and Lobzang in front of the Elanta Mall in Chandigarh, after a visit to the cinema.
Rigzin, Dolkar en Lobzang schreven mij een bericht over het uitstapje: Hi,
Its was quite a nice and romantic comedy, as well as love story. I really like that film, Staring Alia Bhatt and Varun Dhawan, the young Bollywood actor. Dolkar Hi,
The movie is quite good and it's a love story of one boy and a girl. It was the first movie that I saw in Chandigarh's Cinema Hall. We had a good time all of us together. Lobzang Hi,
The movie was very good. The name of the movie is Humpty Sharma Ki Dhulhinia. It is a love story and funny also. Everybody liked the movie. After the movie we just roamed through the Mall. Rigzin Bollywood films zijn absoluut niet mijn ding, sterker nog, ik verfoei ze (verschil in cultuur), dat weten Rigzin cum sui ook, maar zij hebben genoten, daar gaat het om. (PS Er worden wel hele goede films in India gemaakt: Salaam Bombay! is er een, Slumdog millionaire (leuk), een ander is Monsoon Wedding (erg goed). Deze films vinden de kinderen overigens ook prachtig! En verder: Water, The Namesake, 3 Idiots. (red. aka Simon)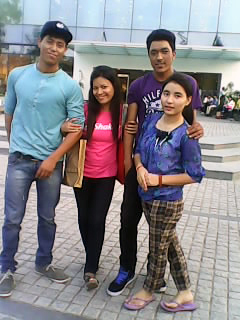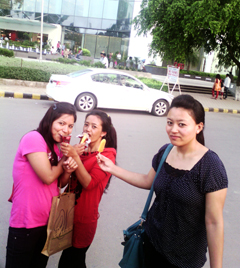 1st picture: Rigzin, Dechen, Lobzang and Dolkar; 2nd picture: Dechen, Diskit and Angmo in front of the Elanta Mall in Chandigarh, enjoying an ice cream.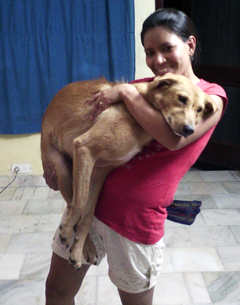 Dechen with Zeerah in her arms.
---
Geplaatst 1 augustus 2014.
Contact met de kinderen in Chandigarh (3).
Deze foto's met bijschriften zijn me opgestuurd door Angmo (17-7-2014) (zie ook Nieuwsbrief :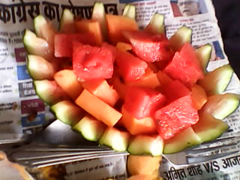 Dechen has decorated the watermelon that we had for desert. She has copied this decoration from a video she watched.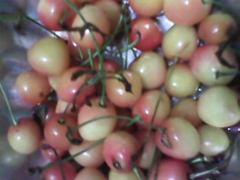 The other day one of my friends came from Zanskar and brought us Kashmiri cherries. They look like not ripe but they taste very sweet. Everyone liked them.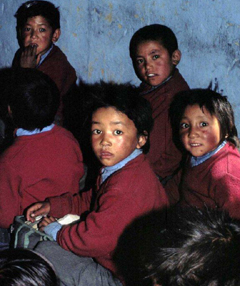 This is the picture of my childhood when I was in Lamdon School, my sponsor took this picture.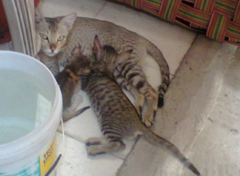 We found a cat in sector 15 and she has three small kitten. One is very weak you can see.
---
Geplaatst 1 augustus 2014.
Contact met de kinderen in Chandigarh (2).
Deze foto's met bijschriften zijn me opgestuurd door Dechen (12-7-2014):
Today I made these: one is called Green Apple meltdown and the 2nd one Tropical ice berg.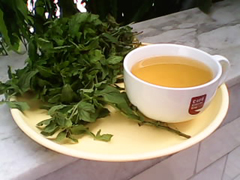 This is our morning lemon tea and mint. I made lemon tea for all our family members.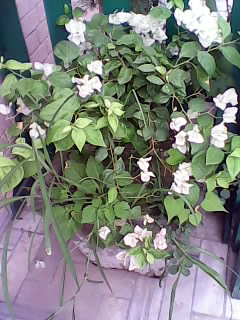 This is one of the four front patio plants, nicely blooming. I took the picture at 6:30 am.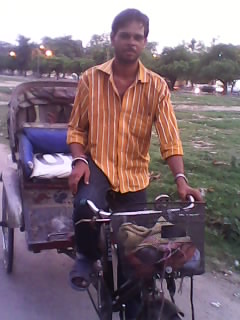 He is a rikshaw wallah, named RAJU.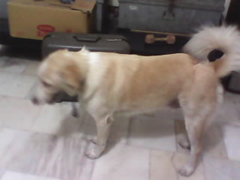 Dinah is ready for his morning walk.
---
Geplaatst 8 juli 2014.
Ik heb regelmatig contact met de kinderen (via Skype en) via e-mail, soms met een vraag, of een kleine opdracht: bijv., het maken van wat foto's, het schrijven van een verhaaltje.
Dolkar kwam vandaag met de volgende foto's met bijschriften: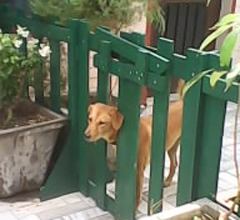 Zeera is trying to get outside, because she wants to play with her mates, the stray dogs that have their territorium nearby. Zeera has to wait till it's stray-time for her. She is kept inside during certain hours of the day. We had to agree with the neighbours on that topic.
The plant in the pot on the right is growing fast but thin as you can see. The plant in the left pot is growing slow but is blooming. The plant was not blooming when you (Simon) were still here in March.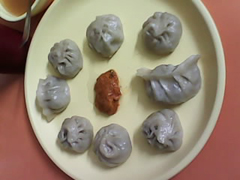 The eight things that you see on the plate are called momos, which is traditional food of Ladakh. We all had a good meal.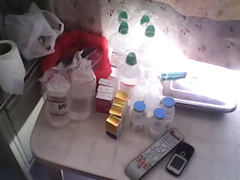 In this picture you can see my stuff, when I was in Hospital. All these things helped me to recover and make me happy. It's all glucose. After the operation, they just injected me with glucose for 2 days.
---
---